Presented by Triple R Sports Group:
Welcome to the Jurupa Adult Soccer League!
Spring 2015 Registration: Deadline for Team deposits for Spring 2015 is February 13th. A deposit equivalent to 6 players fees is required ($390) to hold your teams spot.
The Team fee is $750 IF paid in a maximum of two installments. A $390 deposit is due by February 13th and then the full amount must be paid prior to the start of Game 1. Paying the team fee allows you to carry up to 22 players and gives you maximum subbing flexibility. Any change to your roster after game 4 will incur a $5 admin fee, so firm up your roster before then.
If the team fee is NOT going to be paid up front then a player fee of $65 is due for each player, with a minimum of 12 players. If you intend to have fewer than 12 players, then the player fee will be higher: $750 divided by number of players. Full $65 player fee must be paid in full no later than game 3 or a $10 late fee will be assessed per player. Any team with an unpaid balance will not be allowed to advance to playoffs.
Gala Tickets: The Honors Gala is rapidly approaching, so GET YOUR TICKETS! Tickets are available for purchase at the table for $35 (they will be $40 at the door). Group tickets will only be available until February 6th. Groups of 8+ can purchase tickets for $30. The Gala is March 7th at Canyon Lake Country Club 32001 Railroad Canyon Rd, Canyon Lake, California 92587. The Gala will be from 4pm-9pm. All are welcome to attend.
JASL is offering 8v8 night divisions for its first season at the new Rancho Jurupa Regional Sports Park:
Monday nights: Women's 30
Tuesday nights: Men's 30
Wed nights: Coed
Thursday nights: Men's Open
Friday nights: Women's Open & Coed Open
The season will be 10 games plus play-offs.
TEAMS ARE FORMING NOW! The individual cost to play on a team is $65per season. Cost per team $750. This fee includes all referee costs, fields, lights, play-offs, awards, etc. Uniforms are a team effort.
Register and create a profile online in the My Account tab. Once registered you will be able to join a team and pay your player "credits" on-line by following a few easy steps.
Click How To Join to learn more.
We hope you enjoy playing in our league and we look forward to seeing you out on the pitch!
How to Play in the League for FREE!
Play for free with the TASL/RASL/JASL Business Pages.
Want Complete Soccer Fitness?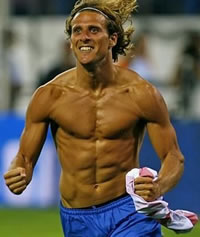 Get fit for soccer with the most comprehensive soccer conditioning resource developed.

Click here for Total Soccer Fitness